ALOS-2
Natural disaster
Other information
Land Deformation Monitoring at Mountainous Area
Deformation monitoring service with SAR Satellite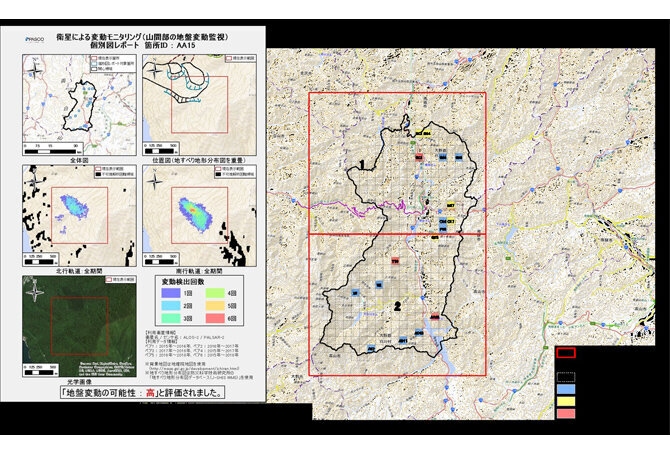 Presenting potential disaster areas
This is a service that uses satellite data to capture changes that are signs of sediment-related disasters (landslides) and indicate locations where there is a possibility of a disaster.
In mountainous areas, it is possible to observe dangerous areas that have not been confirmed by field surveys and deformed areas that have not yet been identified in a wide area and in a plane.
Background: Countermeasures against sediment-related disasters
Mountains and hills occupy about 70%
In Japan, about 70% of the land is mountainous and hilly, and it is geologically fragile. Disasters have occurred all over the country and have a great impact on our lives. The average number of sediment-related disasters in the last 10 years from 2004 to 2013 is about 1,200.
In response to these disasters, national and prefectural governments (municipalities) are promoting countermeasures for sediment-related disasters based on bills related to sediment-related disasters, and in recent years, in addition to hardware countermeasures, software countermeasures have been strengthened.
Points to use ALOS
DAICHI-2 (ALOS-2)
DAICHI-2 (ALOS-2) can be detected as fluctuating fringes if it fluctuates by about 2 cm or more during the observation period, and is observed regularly (about four times a year). Therefore, you can continuously check the fluctuation status from those images.
Effect: Captures a wide area
It is possible to grasp a wide area such as a basin in a plane, and it is possible to narrow down the target of detailed investigation (corresponding with the conventional method focusing on the narrowed down part), which leads to cost reduction. In addition, places that were previously difficult to enter are also covered.
Service Overview: Satellite Monitoring
Satellite image: Collect information without entering the site
The service uses satellite images to capture slight ground movements and provides reports on ground movements that are signs of landslides. By using the satellite image analysis method, it is possible to collect surface change information without going to the site. Since satellite data collects information extensively and roughly, it can be used for general inspections and forecasts such as basic surveys. In addition, it will be used according to the conventional method, and has the following merits.
Efficient survey planning (determine survey priorities)
Reduction of overall cost (Use the conventional method to take measures only for areas with large fluctuations extracted by satellite image analysis)
Monitoring the situation of places that cannot be entered on-site (early grasping information on difficult-to-access areas and small-scale fluctuations).
Prior confirmation by "preliminary evaluation" before contract
Using DAICHI-2 (ALOS-2), which is regularly observed, we will extract areas where there is a possibility of ground movement and provide it as a report. The service will provide maps showing all possible locations of ground movements that are signs of landslides, individual reports of fluctuations, and more. Due to the fact that the satellite shoots from an angle, there are places where the ground movement cannot be captured due to the collapse or shadow of a part of the mountain, and there are places where the ground movement cannot be captured due to the position / irradiation direction of the satellite and the direction of the ground movement.
Due to these characteristics, there may be places that cannot be extracted, so we will perform a "preliminary evaluation" before making a contract to confirm in advance whether it will be applied to this service.