TREND OF SATELLITE DATA MARKET
The space industry is divided into various fields such as rocket launch services for access to space, satellite manufacturing, and space travel. Among these, the satellite data market is focused in this page.
The Market Size of Satellite Data is €4 Billion
According to "Copernicus Market Report", the satellite data market is segmented not only into conventional segments, data sales, and Value-Added Services (VAS) but also emerging segments, information products, and Big Data analysis. In recent years, the share of information products and Big Data analysis in the satellite data market has been on the rise and is expected to grow in the future. The size of the satellite data market in 2017 was about € 2.8 billion, which shows that data sales and VAS are € 1.5 billion and Big Data analysis market is € 1.3 billion. Moreover, it is expected to grow to € 400 million by 2022 due to the influence of Big Data and other factors.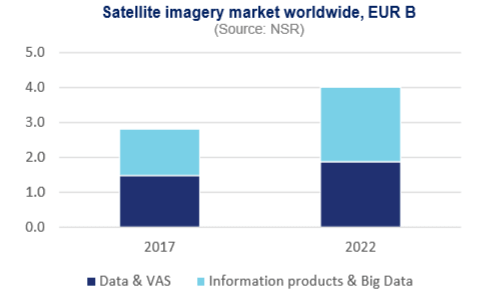 Looking at the share of high-resolution satellite data with a resolution of 1 meter or better by industry "Defense & Intelligence", "public works", and "energy and resources" come in that order, and these three fields account for 80%. The report also predicts the expansion of the agricultural and industrial services sector.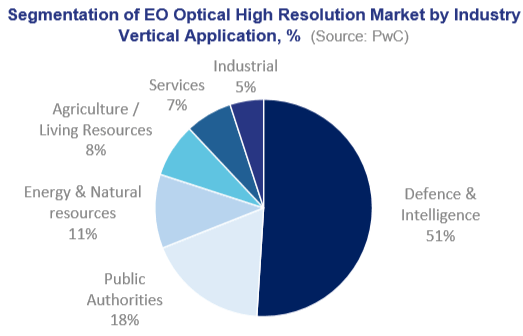 Space Industry Vision 2030
On the other hand, in Japan, the Cabinet Office states in the "Space Industry Vision 2030(Japanese language only)" that it will expand the market size of the entire space industry, including the space utilization industry, by expanding the role of the private sector. As one of the countermeasures, "improvement of accessibility to satellite data" is mentioned. As an environment for promoting the use of satellite data, the mechanism to grasp user needs and continuously reflect them in each satellite project is planned to be materialized. As a premise, it is stated that the active participation of related ministries and agencies with user needs and related ministries and agencies related to industry with user needs is necessary.
Promotion of use of Satellite Data Through Public-Private Partnership
PASCO has signed the business contract with JAXA and is implementing business including ground system development, satellite operation, and data sales for ALOS-3. ALOS-3 is the successor to the optical satellite ALOS and can be said to be one of the continuous satellite data development projects.

PASCO aims to build a business model that utilizes "satellite data" and "spatial information" with "artificial intelligence (AI)" technology. As one of these efforts, we are promoting proposal activities for the provision of services that combine ALOS-3 data and other satellite data and spatial information.
About ALOS -3
ALOS-3 is an earth observation satellite that takes over the optical mission of ALOS (2006-2011). Equipped with a larger and higher performance sensor, it achieves high ground sample distance (0.8 m directly below) with a wide observation width (70 km directly below). Using this sensor, we will continuously observe the land area not only in Japan but also on a whole global, and utilize images accumulated in normal situations and observations in the event of a disaster for disaster prevention / mitigation, disaster countermeasures, and various types of monitoring. Furthermore, the observation images of ALOS-3 contribute to the maintenance and update of highly accurate geospatial information in Japan and developing countries. And multispectral bands are beneficial for environmental conservation in coastal areas and in vegetation areas. It is expected to be utilized in various fields.
Source:
Copernicus Market Report  https://www.copernicus.eu/en/news/news/observer-market-report-2019
SPACE INDUSTRY VISION 2030(Japanese language only)https://www8.cao.go.jp/space/vision/vision.html