Mt. Aso Eruption(SAR satellite image)
Mt. Aso erupted at 11:43 am (JST) on October 20, 2021, and the eruption alert level was raised from 2 (crater area regulation) to 3 (mountain entry regulation). The first pyroclastic flow since October 2016 has been confirmed.
The following images were acquired by ALOS-2.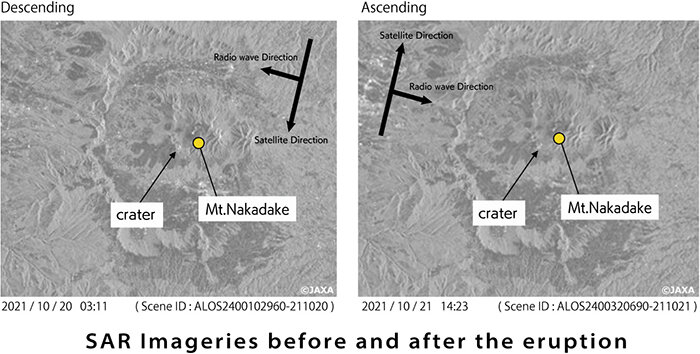 About Mt. Aso
Mt. Aso refers to the mountain range extending from east to west centered on Mt. Aso, which consists of Mt. Nakadake, Mt. Takadake, Mt. Neko, Mt. Eboshi, and Mt. Kishima. The rim of the crater is one of the largest volcanoes in the world, with a north-south distance of about 25km, an east-west distance of about 18km, and a circumference of about 128km.
According to the volcanic activity since the recorded history of Mt. Aso of the Japan Meteorological Agency, the activity has been repeated in recent years, and 18 activities have been recorded since 2000.
---
If you are interested in the image data above, we can provide those as sample image data, so please describe "Mt. Aso ALOS-2 Sample Request" in the detail inquiry of "Contact us". (Provided target: with scene ID)
---